Airport housekeeping and janitorial teams face a huge challenge: keeping enormous facilities clean despite round-the-clock traffic. We talked to one of our OrangeQC clients about how they use the latest technology to rise to the occasion.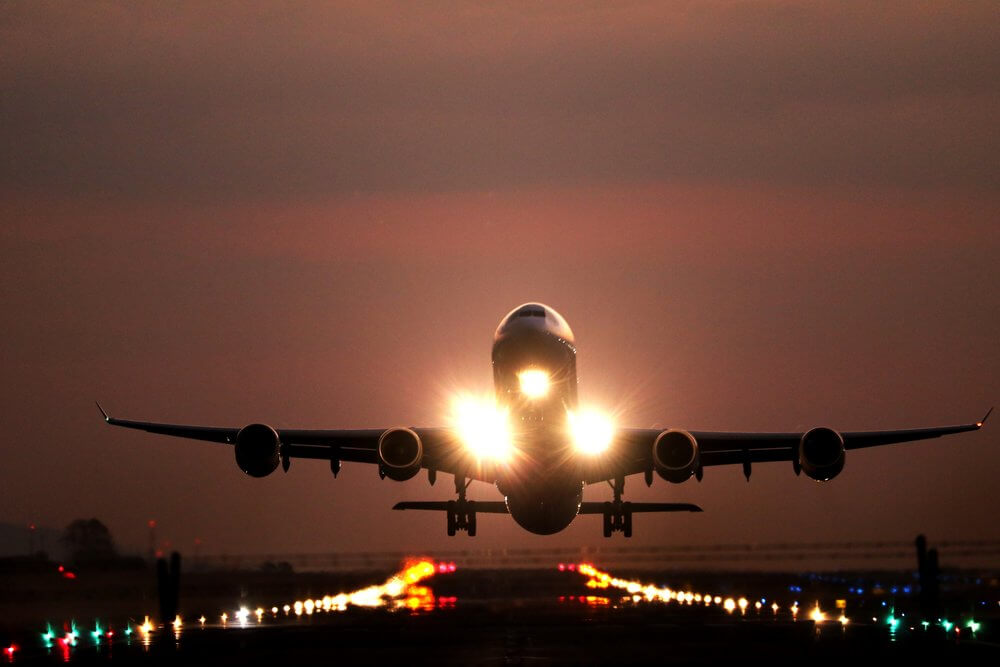 Photo by Josue Isai Ramos Figueroa
Around the world, airport facility teams are dealing with unprecedented traffic.
Total passengers were up 6.6% last year, according to Airports Council International (ACI). Airport facilities and housekeeping teams are facing unprecedented demands to clean and keep supplies stocked as their facilities get busier and busier.
It's a challenge Cincinnati / Northern Kentucky International Airport (CVG) knows well. In fact, CVG is currently the fastest growing passenger and cargo airport in North America. And it doesn't show any signs of slowing down.
But the housekeeping team does more than just keep up.
"We have to demonstrate every hour of every day how a clean, inviting atmosphere can play a vital role in attracting and retaining new customers," said Rae Jean Chambers, Assistant Supervisor of Housekeeping for CVG. "[We're] moving away from a 'public utility' to a recognizable 'travel brand' for safe, secure, and clean operations."
Here's how one airport uses new technology to meet the new demands.
CVG is innovating with a slew of new technologies. They're one of the first airports in the country to implement a wearable technology program (using the Samsung Gear Hipaax TaskWatch) to help track passenger flow, communicate thresholds to staff on the ground, activate checklists, and contribute to airport security. The staff uses environmentally-friendly ionized water to mix their own cleaning fluids, reducing waste and eliminating harsh cleaning chemicals. They are also purchasing an autonomous scrubber to keep their terrazzo floors clean.
And, of course, we're proud to work with CVG! Their teams began using OrangeQC to manage quality control in January of 2015. Not only do they use the app to identify high-traffic areas and spots that need more attention, they also track the cleaning quality of both their in-house and contract cleaners.
"We absolutely love it," said Chambers. Her team especially appreciates the graphing and charting capabilities that OrangeQC offers.
Getting creative with technology takes things to the next level.
When CVG put up signs asking travelers to give feedback on the airport's bathrooms, they weren't sure how people would respond.
The idea was for customers to use their own phones to send notes, either by scanning a QR code or sending an email. CVG's housekeeping team would get more detail than a simple happy face/frowny face button provides — and bypass concerns about germs. Most importantly, with technology from OrangeQC, the feedback would go straight to their staff.
"At first we thought, oh, we won't have many people take the time out of their busy travel to do this," said But she said they were surprised by how many responses they started getting. "People really do care what the restrooms look like."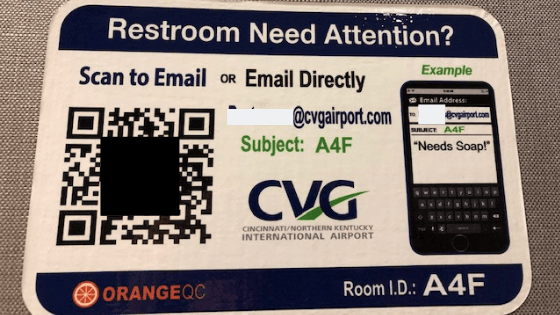 CVG posts placards showing how travelers can leave feedback on the state of the restrooms via OrangeQC. (Photo courtesy of CVG.)
The team even gets positive comments through the system. "Of all the airports, they say they enjoy flying here because we take the time to make it clean and inviting," said Chambers.
Learn more about how OrangeQC works for airports and aviation facilities and housekeeping teams.