Finding success as a building service contractor (BSC) or janitorial facility team is about more than just hiring the right team, finding clients, and keeping up with quality control. Those things are definitely important! But there are also benefits to staying on top of the latest trends and networking with others in the cleaning industry.
One easy way to accomplish that (and more) is to join a trade association. Though there are many options out there, today we're going to focus on ISSA and what membership involves. Before making a decision, it's important to weigh the cost and benefits. So let's dive in!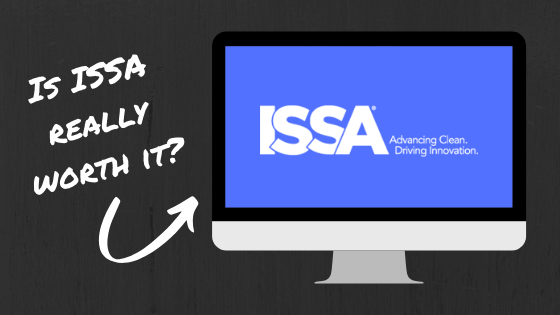 What is ISSA?
ISSA's membership is made up of more than 9,200 distributors, manufacturers, manufacturer representatives, BSCs, in-house service providers, residential cleaning companies, and associated service members. Their cross-vertical membership includes K-12, universities, airports, government, healthcare and more.
The organization's vision is to "be the leading resource for information, education, networking, and commercial opportunities." That means they're a hub where industry professionals stay on top of the pulse of the janitorial and sanitation industries. ISSA also advocates for the cleaning industry to the government and within communities.
What does ISSA stand for?
A quick bit of backstory: ISSA's history goes back more than 95 years to when Alfred Richter founded the National Sanitary Supply Association in 1923. Based on Richter's idea that the cleaning industry needed to unite as a community, the association grew to a worldwide organization.
To reflect the new membership in its name, it became the International Sanitary Supply Association in 1966.
In 2005, the association welcomed cleaning service providers, prompting the association to change its name and tagline to ISSA—The Worldwide Cleaning Industry Association.
What makes ISSA different from other janitorial and sanitation groups?
Three of the biggest benefits of being an ISSA member are:
The ISSA Show North America industry trade show
The ability to become certified in Cleaning Industry Management Standard (CIMS)
ISSA's cleaning standards and forms
Let's take a deeper look into each of these three benefits.
ISSA Show North America
Each year, ISSA connects members to each other through the industry's largest trade shows—most notably, the ISSA Show North America. This year, it's taking place in Las Vegas from November 18–21, 2019.
The show provides the opportunity to join more than 16,000 professionals from around the world for cleaning and maintenance solutions. Though it's open to non-members, members receive preferential rates, as well as invitations to networking events focused on them.
If you attend the ISSA show, it will more than make up for your membership fee . . . so if you're planning to attend, membership pretty much pays for itself.
There are other industry events worth attending, but the national ISSA show is arguably one of the best. It's attended by leaders in the industry from all over the globe and gives you the chance to rub shoulders with facilities professionals in healthcare, aviation, government, and other industries.
Besides finding out what folks in your field are doing, you'll also hear about big wins in related areas. That's a great way to to get inspiration to try something new.
ISSA shows also offers education sessions, workshops, and a trade show that includes more than 700 exhibitors across 16 product categories.
We make it a point to be there every year. (And if you're an OrangeQC client, we may have even met you there!) During the ISSA Show North America 2019 in Las Vegas, you can find us at Booth #574. (Please stop by!)
The trade show floor is where you'll find "the latest in cleaning technology, shop exhibitor products and services, and learn from interactive sessions in three theater areas," according to ISSA's website.
CIMS Certifications
According to ISSA, "CIMS is the first consensus-based management standard that outlines the primary characteristics of a successful, quality cleaning organization."
The Standard is divided into six areas: quality systems; service delivery; human resources; health, safety, and environmental stewardship; management commitment; and Green Building (GB).
Becoming CIMS certified is an indicator that you have your act together and are following the industry's best practices. It should lead to improved efficiency, better customer satisfaction, and a great quality of service.
To become CIMS certified, your organization must submit written documentation that supports its compliance with the requirements in the five key sections of the the Standard. Organizations must meet 100% of the mandatory elements and 60% of the recommended elements in each section.
One requirement? Teams must be using a quality control system, such as OrangeQC. (That's right: we help our clients become CIMS certified!) Visit the ISSA's website for more information about how to obtain CIMS certification, including fees.
Though it can be a long process, becoming CIMS certified shows your clients that you are delivering consistent, quality services. It definitely sets you apart from other teams . . . and we've also seen that it also typically allows you to charge higher rates.
ISSA Clean Standards
ISSA has its own standards of cleanliness for schools and institutional and commercial facilities. The ISSA Clean Standards establish a baseline for facilities to objectively assess the effectiveness of their cleaning processes.
The ISSA Clean Standard: K-12 is meant for K-12 public and private schools. It "relies upon both objective and subjective components in setting forth a methodology for measuring cleaning effectiveness," ISSA says.
The ISSA Clean Standard: Institutional and Commercial Facilities is for office buildings, retail stores, hotels, hospitals, and other similar facilities. It comes from research in K-12 schools but has been tweaked to make it easier to use by institutional and commercial facilities.
In addition to the Clean Standards, ISSA offers sample standard inspection forms. Instead of trying to reinvent the wheel and create their own inspection forms, members can download them and print them out — or copy and paste them into OrangeQC.
So . . . Is ISSA it worth it?
In short, yes, it usually is. Becoming an ISSA member offers a host of benefits, including the ISSA Show, CIMS certifications, ISSA Clean Standards, a Buyers' Guide, discount program, and more. If you really intend to grow within this industry, we think ISSA gives you great bang for your buck.
If you think joining an industry association sounds like a good idea but ISSA isn't the right fit, there are others to consider.
What are the other options?
APPA membership
Many of our clients in the higher education industry belong to APPA, which has been around for 105 years. More than 10,000 facilities professionals from more than 1,300 learning institutions are APPA members. The organization provides standards and best practices, professional development and training, performance measurement, evaluation tools, credentialing, and more. In addition to events and conferences offered throughout the year, APPA hosts an Annual Meeting each summer. Visit their website for more information on the organization.
BSCAI membership
Building Service Contractors Association International (BSCAI) is popular among our BSC clients. BSCAI offers opportunities for networking, education, access to trends and insights, discounts, and three in-person annual events. Visit their website for more information.
Other trade associations
If you're looking to investigate other trade associations, there are plenty of smaller groups out there. These include:
The bottom line on ISSA membership
We've found ISSA to be a really valuable membership for our team personally, but we also hear all the time from clients who gain a lot from the membership.
In the end, only you know what's best for your team. If you're on the fence, however, we think it's worth making the jump.