APPA's Custodial Service Levels can be tricky to really understand. You may have heard them referred to by many different names: "levels of cleanliness," "levels of clean," "custodial staffing levels," "custodial staffing standards," "APPA maintenance matrix," or "appearance levels," just to name a few.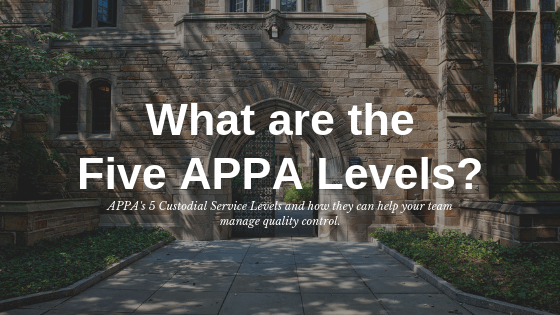 The levels are a rating system designed to help educational facilities evaluate the cleaning quality at their facilities, as well as the appropriate staffing needed to maintain the clean. The APPA custodial service levels provide a clear framework for custodial and facilities teams to talk with their organizations about the level of clean expected, staffing levels, and more.
Knowing the level of cleanliness your organization expects allows you to communicate better with your them and your own team.
Let's dive into the history of APPA's five levels of clean, what the levels mean, and how you can use them at your facility.
What are APPA's Five Levels of Cleanliness?
You can find the full text of the five levels at APPA's Facilities Terms and Definitions Database. We've also summarized them below: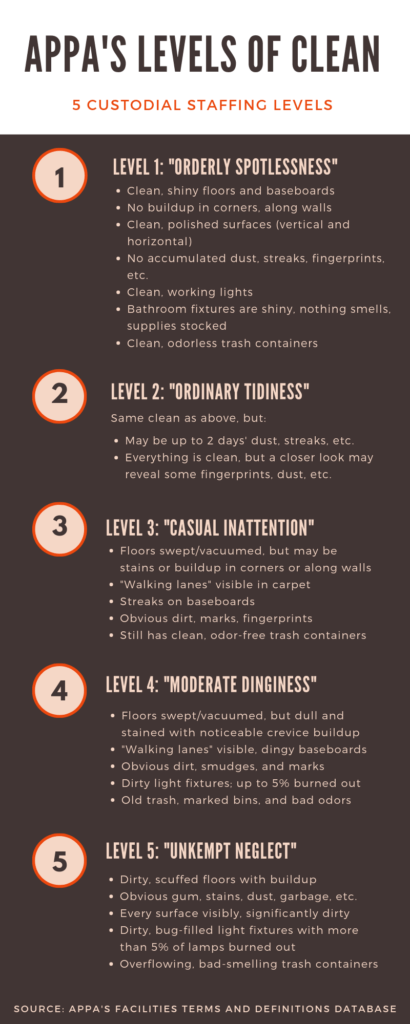 If you want the full details on the APPA levels, how to employ them, and much more, you'll want to purchase APPA's Operational Guidelines for Educational Facilities. It's a worthwhile investment for teams wanting to dig deep into APPA recommendations for operations.
Where did the APPA levels come from?
More than 30 years ago, an APPA task force took a hard look at custodial staffing issues within higher learning institutions. They ended up authoring the 1992 work Custodial Staffing Guidelines for Educational Facilities.
The Guidelines, which defines five levels of cleanliness, quickly became a resource for facilities managers to estimate how many custodians they needed to complete their necessary tasks. According to the book, when the square feet of the area assigned to a single custodian increases, there is a direct impact on the level of cleanliness.
A 2008 study titled Cleanliness and Learning in Higher Education found a correlation between the cleanliness of a school's facilities and college students' academic achievements. It was based around APPA's five levels of cleanliness.
The study found that 88% of the 1,481 students polled became distracted by the lack of cleanliness found at APPA levels 3 and 4. Furthermore, 84% of students indicated that APPA Level 1 or Level 2 would make the best learning environment, which reveals how important the work of facilities teams is to learning.
How to make the APPA levels work for your team
Though many teams strive for Level 1, some customers choose to only pay for Level 2 or Level 3 in their service level agreement (SLA). If this is the case, be sure to rate your inspections using the correct scale. If your team needs to hit Level 2, grade on a scale of 2 to 5 (instead of 1 to 5). This ensures that you're not earning "extra credit" in certain areas, which can disguise areas where you're not meeting the level needed.
Since you do not get paid more for achieving a higher level than what is specified in your SLA, it is important to know exactly what level your team is maintaining.
That's where a janitorial inspection software like OrangeQC can come in handy.
OrangeQC's app-based inspection forms can be filled out with a few taps on almost any phone or tablet. We give you all the tools you need to capture the right data.
How one team uses OrangeQC to manage APPA scores
The facilities management team at the University of Colorado Boulder needed to streamline how their supervisors scored the buildings during inspections. Switching to OrangeQC's inspection forms changed everything.
Alan Slinkard, a Facilities Management project specialist at the University of Colorado Boulder, told us that OrangeQC "created a level of collaboration between our supervisory staff and building managers and proctors." (That collaboration led to a $25,000 innovation grant from the university, too.) Everyone got on the same page about the level of clean required and how to score inspections.
Notes and photographs were two of the most important features for Slinkard's team. They demonstrated that his team wanted to be open and transparent. Additionally, they also helped with training and providing insight into areas of improvement.
---
For more information on how OrangeQC's inspection software helps teams at educational facilities, check out our education page or start your own 30-day free trial.