Refreshingly simple cleaning inspections
OrangeQC is the best inspection platform for helping facility teams track and improve cleaning, disinfection, and safety.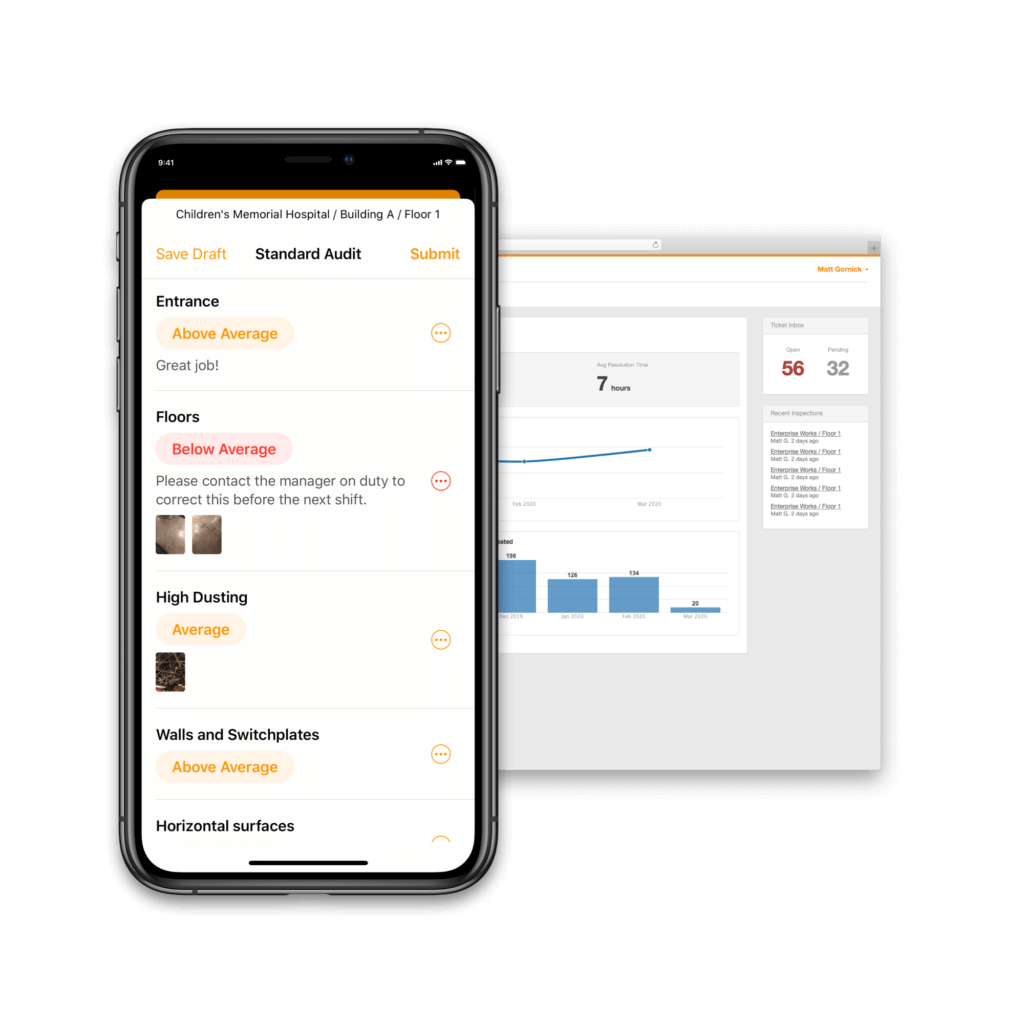 Make a clean break from paper
Real-time results. Automatic dashboards. Every inspection at your fingertips. OrangeQC is more than just mobile forms – it's a powerful tool that lets you track quality control, see what everyone is working on, and always have a pulse on your facilities.
No more endless stacks of paper forms. No more lost inspections. No more manually entering data into spreadsheets. And no more struggling with complicated software that no one bothers to use, either. We take care of simple, easy inspections so you can deliver world-class service.
A fully integrated mobile app and website designed for quality control​.
OrangeQC is a best-in-class tool for inspecting your facilities and improving operations. Mobile app inspections sync to your online dashboard automatically for real-time data reporting. Close the loop on quality issues and run a more efficient team with OrangeQC.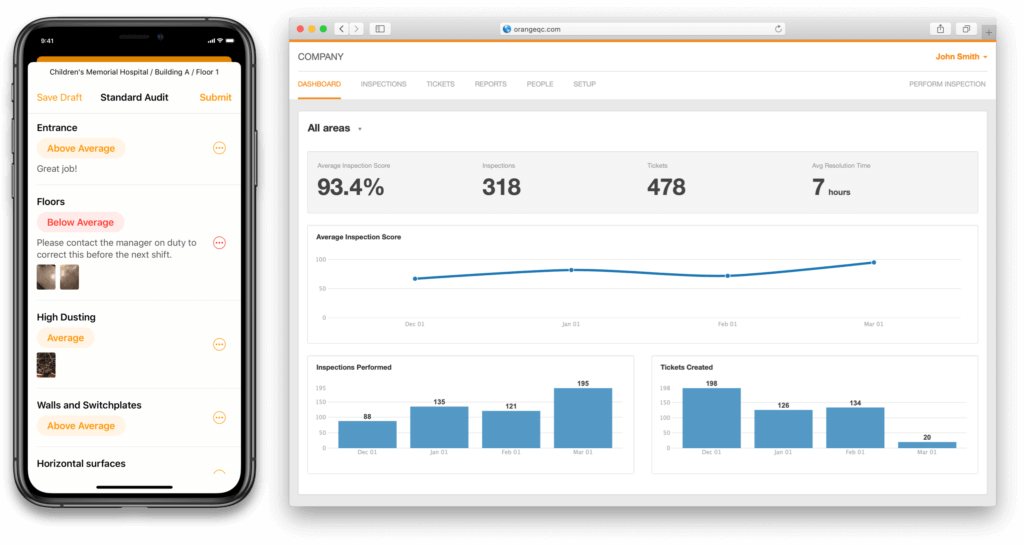 Custom inspection forms fit your process.
If you can inspect it on paper, you can inspect it in OrangeQC. Our teams manage airports, schools, hospitals, offices, restaurants, and more. OrangeQC lets you create and customize inspection forms, rating criteria, scores, and areas to fit your process. The best part? Setup is refreshingly simple.
Cleaning and janitorial inspections. Track offices, schools, airports, healthcare facilities, and more.
Process compliance audits. Great for ensuring disinfection, handwashing, and PPE usage follows training and best practices.
Disinfection audits. Including high-touch surfaces and CDC guidelines.
Safety inspections. Including slip or trip hazards and fire safety.
Routine maintenance and corrective actions. Our ticketing system works with email, too.
APPA and CIMS cleaning standard inspections. Customize your ratings to fit your process.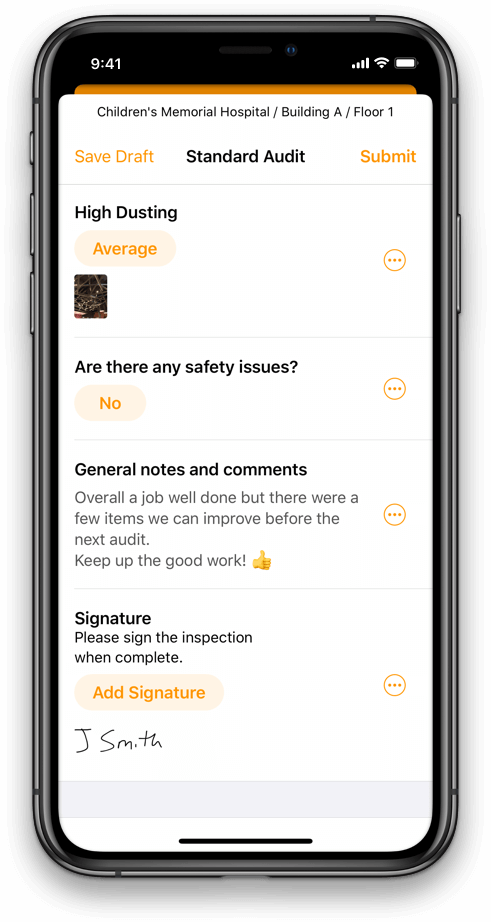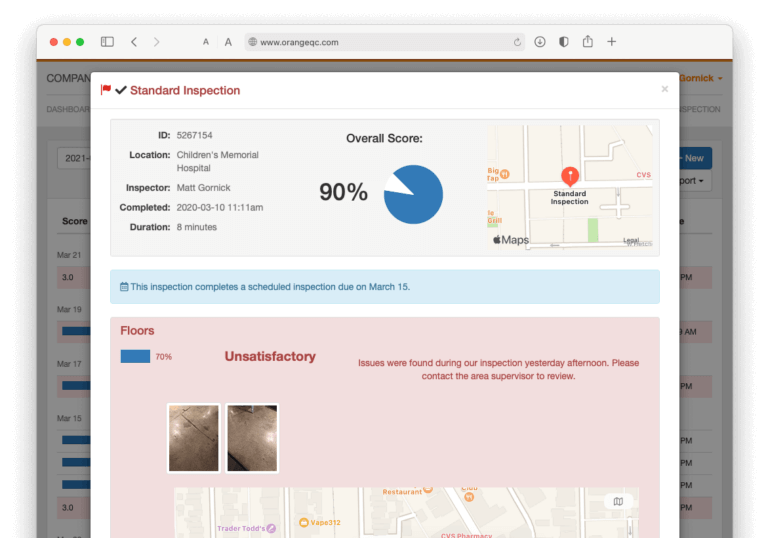 GPS, timestamps, and photos supercharge mobile inspections.
We work where you do. Our powerful app-based inspections let your team conduct audits, take photos, sign off on forms, and more… all within an easy-to-use app. Access it from anywhere on iOS, Android, and the web. Inspections come automatically tagged with GPS location data and timestamps to keep your team accountable.
Real-time notifications and alerts keep everyone in the loop.
OrangeQC syncs inspections, work orders, and tickets in real time — and keeps everything organized so your team can stay on top of it all. Automatic email alerts can be triggered to clients, your team members, or other stakeholders. Your clients and partners who want to stick with email can do just that.
"Close the loop" on deficiencies by ensuring flagged inspections get resolved.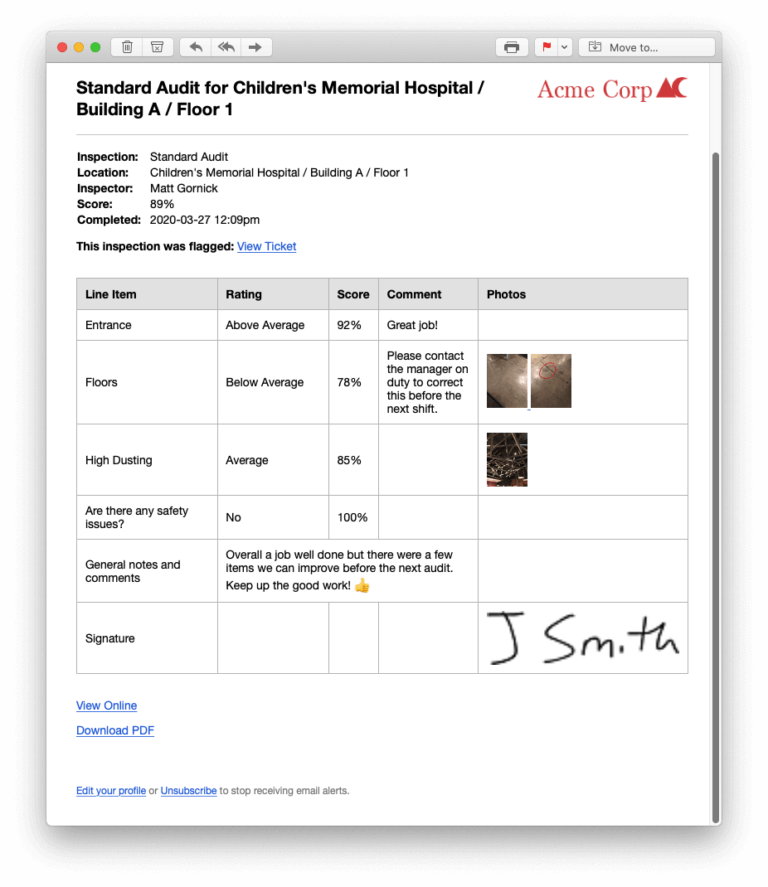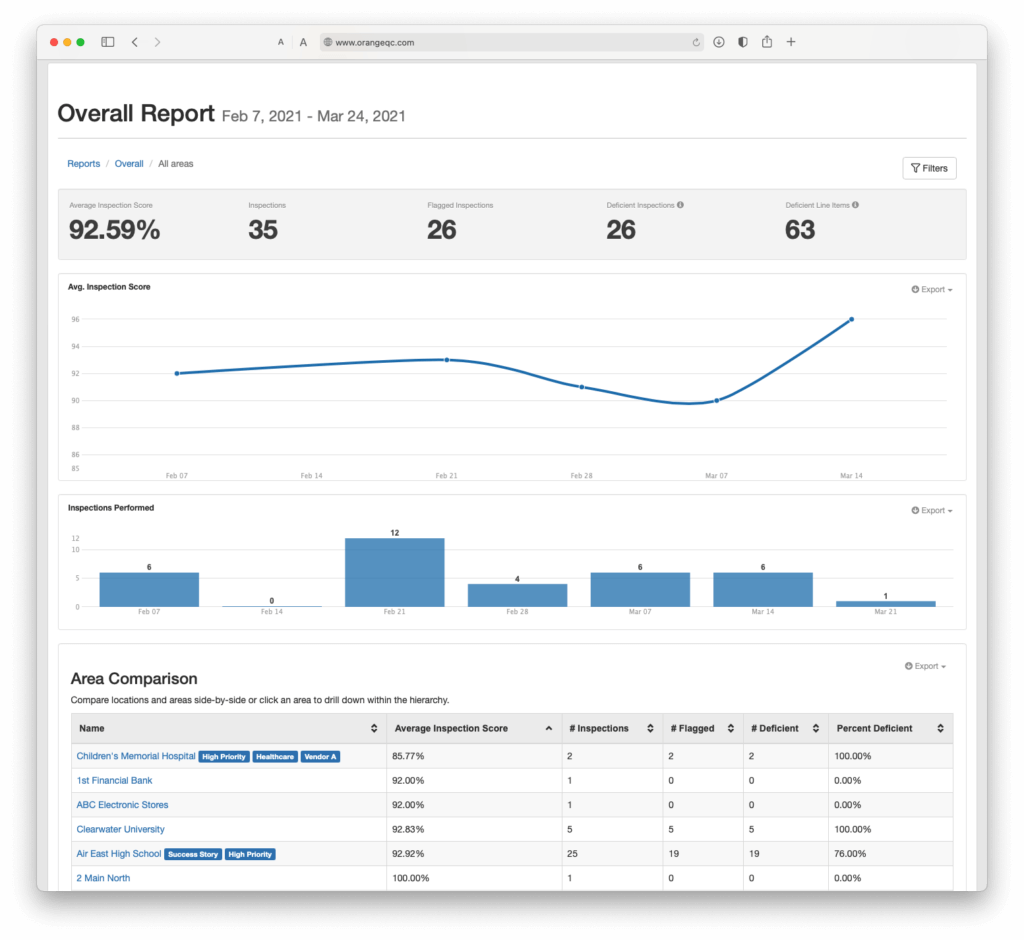 Professional reports turn your work into a quality control showcase.
Impress your clients (and win new ones). Our software provides you with powerful and professional reports to keep clients in the loop on your team's performance and showcase your quality control process. Slick dashboards, easy-to-read graphs, professional PDFs: we pull everything together for you.
Create an account instantly and start performing inspections. You can also contact us for a personalized webinar demo.
Integrated per inspector pricing with no hidden fees.
Easy to follow step-by-step tutorials to help get started.
Teams who are serious about quality control choose OrangeQC.
Since 2009, building service contractors (BSCs), K-12 schools, universities, airports, and healthcare teams have used OrangeQC's platform to take their cleaning and maintenance to the next level.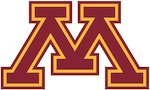 "We know when we go to sit down at the table with anyone — whether it be a customer, a vendor, a faculty member — that we will be the most informed people at that table because of OrangeQC."
Dave Crane
Office of Classroom Management at University of Minnesota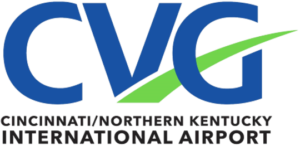 "OrangeQC provides actionable real time data which helps us maintain our facilities at a high level, contributing to an unforgettably positive passenger experience."
Stephen Saunders
CVG Airport – Cincinnati / Northern Kentucky International Airport


"OrangeQC is a critical component of Alpine Building Maintenance's overall quality management program helping our operations teams to monitor and manage performance across all our measured quality metrics. From inspecting entire buildings to inspecting individual spaces and tasks within a small space, OrangeQC helps us to observe trends in our performance and to proactively maximize efficiencies and cleaning performance across our clients' sites. OrangeQC's easy to access and program surveys allow us to customize our inspection forms to meet the varying needs of our Clients and showcase the great work performed by our cleaning teams across our national portfolios."
Ioanna Psiharis
Alpine Building Maintenance

"We have used OrangeQC in many of our accounts for nearly 5 years. It has helped take our operational quality to the next level, creating accountability and transparency for our services. Our staff takes pride in their scores, and they enjoy learning when their areas perform well. Our clients can track our quality at any point, giving them up-to-date details on their facility. OrangeQC is essential to our daily operations."
Glenn Desposito
SMS (Service Management Systems)


"As a unit, we are constantly amazed by the power and simplicity of OrangeQC.
I personally wanted to say that because we keep finding new things that it can
do. I wish other app makers could be as collaborative and supportive as you
have been in working with us. OrangeQC really has become an incredible tool
and resource for us."
Alan Slinkard
University of Colorado – Boulder

"One of the wonderful things about OrangeQC is that the information is there, and it's there immediately. Geostamped, timestamped — it's all covered."
Ron Atkins
University of Toronto

"Our Facilities Maintenance Housekeeping team is very satisfied with the features and functions of OrangeQC. It proves to be an efficient, helpful, and valuable inspection tool."
Elizabeth Ziegler
Johns Hopkins University APL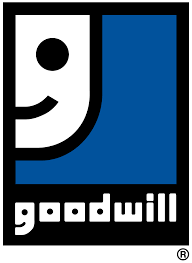 "[OrangeQC] has transformed my interactions with my customers and taken it more to a data-level experience. People are just bowled over. This really differentiates me in the market. There's nobody walking in with this kind of technology from a nonprofit."
Kathy Patton
Formerly of Licking/Knox Goodwill Industries

"I am so pleased to be working with OrangeQC, the innovation you bring to our industry is amazing. We are able to tie several of our practices into one easy-to-use system. We are able to streamline our processes making our operations more efficient. Thanks to you and your team for all of the support and dedication!"
Olympus Building Services, Inc.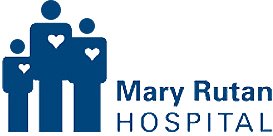 "[OrangeQC] is very user-friendly in its application for our cleaning inspections, and our staff really like the 'instant results' from the scoring . . . We even have the ability to attach photos with areas of concern through the program. I have compared OrangeQC to similar programs and have found this one to be very affordable, and building the inspection reports is very easy! I would absolutely recommend OrangeQC to anyone in the market for this type of an inspection program."
Ron Black
Mary Rutan Hospital
"After a year of struggling with another software program, I switched to OrangeQC. What a difference! My admin person had all my buildings and inspections entered in ONE DAY!"
Ed Cook
Servicemaster Performance New Mexico
"OrangeQC is the cleanest, simplest, and most efficient tool I've ever used to communicate accurate and timely decision-making data to my clients. It provides a far better service to my clients than any professional report, letter, or phone call could ever consistently achieve."
Jacob Porter
Porter Matthews, Inc.
Interested in insider interviews and industry best practices?
Join our monthly newsletter!​
OrangeQC only exists because of bad software. Our founder, Matt Gornick, spent time in college helping a facilities company set up really complicated janitorial inspection software. It took a really long time and a lot
Read More