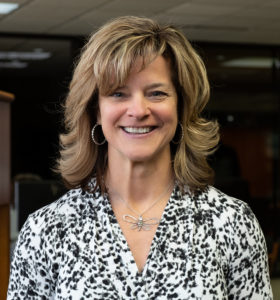 Kathy Patton has a unique job in the custodial industry: she's the Business Development Coordinator for the Contract Services Division of Licking/Knox Goodwill Industries, Inc. (That's right, Goodwill offers custodial services — more on that in a minute.)
Kathy's prior experience in the technology industry, along with the special population she works with, make her an amazing source of insight for introducing new technology to custodial employees. We talked to Kathy to learn how she took a diverse team of employees to the next level by embracing technology.
Read on to learn more about Kathy, how Licking/Knox Goodwill uses QC software to help their employees, and to get her tips for introducing new custodial inspection software . . . or any new technology.
Kathy Patton and Goodwill: Incredible expertise and a unique mission
First, a bit about Kathy and her organization.
Most of us know Goodwill as the local thrift store, but Licking/Knox Goodwill Industries goes way beyond second-hand shopping. They've got a thriving custodial services department that's more than 250 employees strong.
Kathy says that the Contracts Division grew from the freedom each Goodwill franchise has to advance the core mission in creative ways. (From Goodwill: "Goodwill's mission is to enhance the dignity and quality of life of individuals and families by strengthening communities, eliminating barriers to opportunity, and helping people in need reach their full potential through the power of work.")
"The [thrift] stores themselves were actually created as a way to employ people with disabilities and other barriers to employment," Kathy says. That might include veterans with PTSD, recovering addicts, people with a criminal background, and people with disabilities. "There are all kinds of reasons where it might be difficult for someone to go into a regular place of work and get a job — and then actually keep that job."
That means that for her team of custodians, the job is more than just a paycheck. It's a connection to meaningful work, a path to future employment, and a chance to gain valuable, marketable skills.
How does Kathy fit into the department? "My job is to go out to businesses and attempt to sell our services," she says. "Those services today are largely custodial, but we also perform landscaping, light office clerical, mailroom duties, and unarmed security," she says. The department has a huge base of clients, ranging from large federal and state contracts to restaurants and banks.
In addition to her work finding clients, Kathy also brings technical expertise to the table. She came to Goodwill fresh off 25 years at Nokia, one of the largest providers of telecommunications infrastructure in the world.
When she started at Goodwill, she noticed that many of the department's operations were still being done by hand.
"Because many of our people have disabilities, it's super important that we have constant feedback. We were doing this feedback with a pencil and paper," she says with a laugh. "We filled [inspections] out forms every day and put them in file folders, which made it very difficult for us to see patterns, both from an individual perspective — is someone continuing to improve? — as well as systemically."
So, she floated the idea of taking the inspection and quality control processes to the digital world.
How Licking/Knox Goodwill went digital
Training the staff on an inspection software wasn't only about ensuring a high-quality custodial service (though that was a big part of it). It was also an opportunity: a chance to give the employees a new skill that would add to their value as workers, both at Goodwill and in future endeavors.
When Kathy began to train her custodial staff on how to use the new inspection application, she wasn't sure how things would go. So she set up a trial run, with participants carefully chosen to help predict full-scale deployment outcomes.
Her trial included groups she suspected might have a harder time adapting to the technology, as well as people she thought would take to it well.
Fortunately, the trial went well.
"I was just so shocked about how quickly they took to this kind of technology," Kathy says. "We're in the training class, I'm the teacher, and they're just clicking around learning new things on their own: 'Oh, here's how you go to the history.' I was just bowled over. Even my people with disabilities had no problem embracing the technology."
After the initial trial, Kathy's team rolled the technology out to everyone.
"Everybody loved it," she says. "Even customers started seeing people using it and asking questions… It kind of took on a life of its own, which was super exciting."
Additionally, data from the application has made it easier for Kathy's staff to train the team. For example, if some inspectors are always giving perfect scores, and others never give perfect scores, that reveals an opportunity to "refine our own message to them about what an inspection is and what our expectations are."
The application has also helped the team give better feedback to the cleaning staff.
"We love the pictures," she says. "We have employees where we're inspecting them after their shift and I can show them, 'Here's the picture right after you were there, so let's talk about this." It encourages everyone to ownership for their work."
"Those aren't really tools that we had before," Kathy says. "The mechanism of having immediate, visual proof and statistics was very helpful in communicating feedback."
Kathy's Tips for Teams Implementing New Quality Control Software
Kathy's experience gives her a great perspective on what it takes to choose, test, and implement janitorial technology successfully. We caught up with her recently to hear more about her team's story and get insider tips for a successful launch.
1. Define your process, then find the right product.
It helps to have a defined, well-documented process before you go out and choose a product. This will help you see where your paint points up front and understand how technology can help ease the load.
For example, Kathy's team had the paper inspection process up and running. That enabled them to see that they needed a system that would analyze the data for them, rather than creating a ton of paperwork that would never see the light of day.
Since they already had a process in place, the next step was to find a product that would give them the same advantages and solve the problems they still faced.
For example, they knew the product had to be easy to use. The paper inspection process had its faults, but it was simple for Kathy's staff to use. The first software they tried didn't make the cut because the team wasn't able to get the hang of it.
"Probably my number one concern was ease of use," Kathy says. "When Matt [the CEO of OrangeQC] turned on my 30 day free trial, I was using OrangeQC within 30 seconds."
That ease of use was important for a successful introduction to the team.
Secondly, she was glad to see that the setup process was simple and within her control. Other inspection alternatives she'd considered had tried to sell her on professional setup services.
"That's just a red flag," she says. "If it's so complicated that I have to buy your expensive professional services to set it up, how am I going to maintain that? How does this get less expensive for me over time?"
2. Trial any new technology with a diverse team of stakeholders.
Kathy's number one tip for teams introducing new technology: "Do the trial."
Remember the group of trial users Kathy started with, including people who disliked change, struggled with technology, or had disabilities? That was on purpose. If this group could embrace the technology, so could the rest of the organization.
"Create a trial with a very specific set of users," Kathy says. "I've got a special population, so I needed to do this." However, she says all organizations can benefit from assembling "the team you're afraid of" to test out the software.
She suggests looking for a diverse mix: "the biggest naysayer, the person who will say it's hard to do, the cheerleader, the executive." Not all 'yes' people, not all 'no' people. That will give you the best feedback about how the technology will work.
After you've got your trial team assembled, Kathy says the next step is to examine your own process and ask: "How can we modify our current process to take full advantage of the technology?"
"You're not just trying to precisely replicate what you currently do," she says. "Take the time to take a step back with the people who matter — different inspectors, etc, and get their feedback on how the process can be made better now that they understand what the technology can do." It would have been a mistake to cram what we were currently doing into the tool."
3. Pay careful attention to the roll-out.
Once the trial gets started, Kathy says you've got to be hands-on with the process.
"I was out in the field with everyone," she says. "You just do not want to get it in the airwaves that it's hard to use… you don't want those messages out there. Be physically present with users. Perform inspections yourself. Review the inspections that are being logged every day. Ask questions of the users."
That means being on hand to resolve any issues quickly. If someone has trouble getting set up or using the technology, you need to be close by to resolve the problem and make sure everything is running smoothly. "If you're using my tools today, I'm out there," Kathy says.
Additionally, she also paid close attention to the way everyone communicated about the software.
"I did work hard on the perception that this wasn't going to be a "Big Brother" kind of tool," Kathy says. "It's not so that I can catch you messing up. It's so that we can all be better."
4. Use the data you get to improve your team.
Kathy's team uses the data they collect to train their team. For example, if a cleaner is continually getting low scores in a certain line item, a supervisor will retrain the custodian on that item and then pay attention to future inspections of that item to ensure the training was effective..
That data also helps her team see individual growth for their employees. By tracking their quality scores over time, she can see how people are growing and learning.
On the flip side, Kathy also says the technology can reveal some personnel issues: inspectors who take 60 seconds to perform an inspection, arm-chair inspectors who's GPS coordinates don't match the site they are inspecting, inspector/inspected personal relationships both positive and negative. "It's not like we're looking for these things, but they have come out," she tells us. Having that data tracked gave Kathy's team evidence to properly document some behaviors that needed correction.
4. Communicate the value of the software to your employees.
Using the mobile app gives employees a new skill. "That's exciting for them to feel like, I'm not just a custodian, I'm on the cutting edge of technology," she says.
In other words, the new technology is actually adding to her team's value in the workforce by giving them a new skill.
That's crucially important for the populations Kathy works with; however, giving your employees the gift of professional growth is a bonus for any team.
5. Use quality control as a competitive advantage.
Kathy says that tracking quality control data has transformed the bid process.
"It differentiates me from my competitors because I can show them what we're doing, how we're doing it, how we're monitoring," she says. "If I'm doing a customer presentation, I whip out my phone, and I show them an inspection from a site that's close to them or someone they know."
She says she now includes OrangeQC in her bids to prospective customers. "It's a sales tool, because I know my customers haven't seen mobile QC from other vendors . . . This really differentiates me in the market. There's nobody walking in with this kind of technology from a nonprofit."
6. Share your inspection results with your clients.
Of course, it's not just prospective clients who have noticed the difference. Kathy's current clients love the data she shares.
"Whenever I schedule a customer review meeting now, I've got my QCs under my arm for all their sites," she says. That includes pictures, data, employee scores, and problems that need to be fixed on the client's side, such as a repair that needs to be made. "It's transformed my interactions with my customers."
Being able to share that level of data has helped Kathy's team keep their clients happy. Not only are they ensuring excellent cleaning services, but they're providing a level of transparency most other service providers aren't offering.
---
Bringing on a new technology can be daunting — but it's also essential to keep your business competitive and efficient. We hope Kathy's tips help you as you choose, test, and roll out new technology within your organization.
---
For more information about providing opportunities for people with disabilities or the underserved, we recommend visiting SourceAmerica (US) for more details.