Do you want to know the absolute easiest, cheapest way to transform your janitorial business?
Write better inspection forms.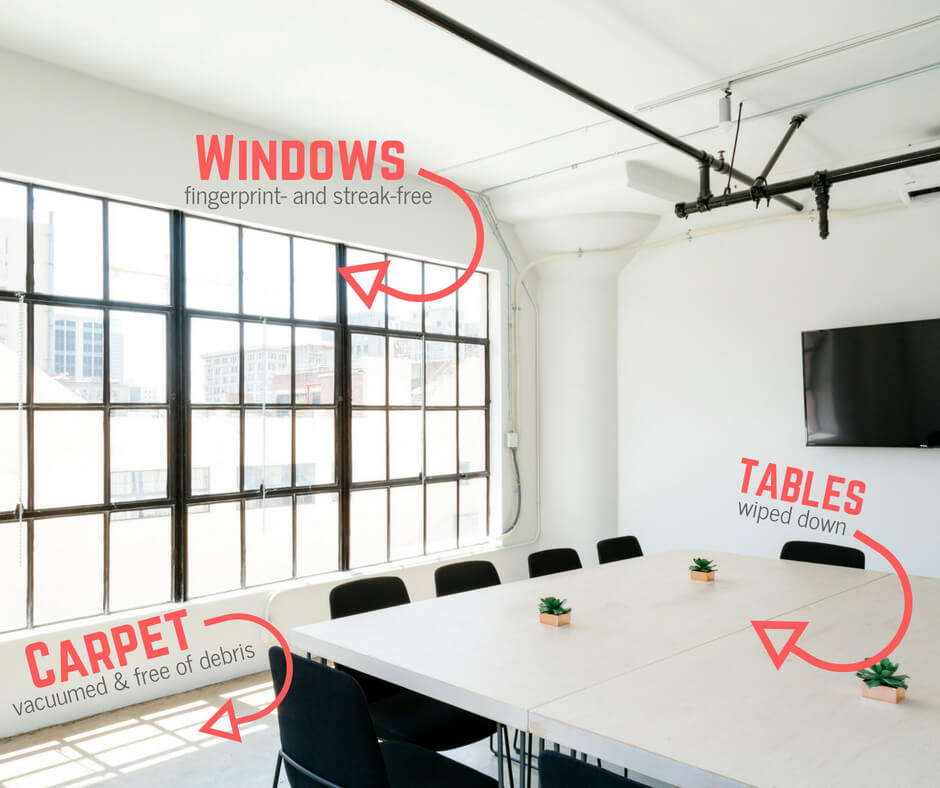 It might seem too good to be true, but a good janitorial inspection form can make the difference between getting great feedback about your team's cleaning quality, knowing who needs more training, and fixing client issues before you lose business . . . or not.
The truth is, how you write your inspection form makes a huge difference. But the good news is that it's not complicated. We've been helping teams do this for years, and we want to pass that know-how on to you.
Inspect what you expect…
"Inspect what you expect" is a mantra in the janitorial business for a reason. If you want a good starting point for writing an inspection form, start with the checklist your cleaners use! You should only be grading the room based on what you're asking your cleaning team to do.
In other words, if your cleaners aren't supposed to clean the windows, don't have your inspectors check the windows. It sounds simple, but we see it all the time.
If your cleaners do their jobs well, they should be able to earn a high score — otherwise, it's frustrating for them and unhelpful for you.
For example, if you want to take an inventory of supplies left in a room, but your cleaner isn't responsible for restocking them, you don't want to make it a graded line item on the form. However, good janitorial inspection software (including OrangeQC!) will allow you to include a field to capture that information without having it affect the score. In OrangeQC, you can use a number picker for the inspector to take inventory, check temperatures, etc. without affecting the score. You can also change the weight of a line item to 0 if it shouldn't count in the final score.
…and inspect what's expected of you.
You should also think about your client's expectations. Whether it's in your contract, SLA, or just from the conversations you've had, you want to make sure your inspections help you meet those expectations.
Sometimes that means adjusting the grading scale your inspection form uses. For example, in our interview with Alan Slinkard of University of Colorado Boulder, he shared that his team had to adjust their grading scale to reflect the APPA level their organization had requested. If you're supposed to be delivering an APPA level 2 ("ordinary tidiness"), you need to grade based on that, not an APPA level 1 ("orderly spotlessness").
Of course, it's great to exceed expectations! But if you're giving yourself brownie points for items a customer isn't paying for, it's going to be less obvious when you aren't delivering on something they do expect.
Keep it short.
We say it all the time: the best inspection is the one that gets done.
The great thing about OrangeQC is that an inspector can walk into a room, fill out the form with a few taps and swipes of their smartphone, take a photo if need be, and be done. That's it.
The shorter you keep your forms, the more likely your inspectors are to keep up the pace you've set. You can always create a more detailed form to be filled out annually or monthly, but if you can turn a monthly check into a weekly or daily one by making the form short and sweet, it's worth it every time.
Get everyone on board.
If two inspectors walk into a room, they should give it the same score. A good inspection form doesn't leave much room for personal opinion. (This is why OrangeQC lets you view inspection forms by inspector so you can check out average scores.)
You need to be specific about what kind of a clean corresponds with what score. OrangeQC allows you to leave comments by your line items with what's expected, which is a great reminder. And because all of the rating systems are customizable, you can choose the one that works best for your team.
Have you ever sat down and decided what it means for windows to be given an "exceeds expectations" versus "meets expectations"? Can you find a place where the difference is in writing for your inspectors to refer back to?
---
Want to build a better quality control system? Try a free 30-day trial of OrangeQC's janitorial inspection software. You'll get full functionality for 30 days, no credit card required.