Great communication helps keep your client relationships solid—and sell your service to new clients. So how do you start the conversations that clients want to have? We have a few ideas for talking points that will help you communicate effectively about your business's quality control.
To help keep your existing clients happy:
Show off your data. Your dashboard lets you see your average inspections scores over time for each location, as well as how many inspections you've performed and how long it takes you to resolve a ticket on average. Share this data with your clients! They'll feel confident knowing you track your own performance and keep an eye out for any issues.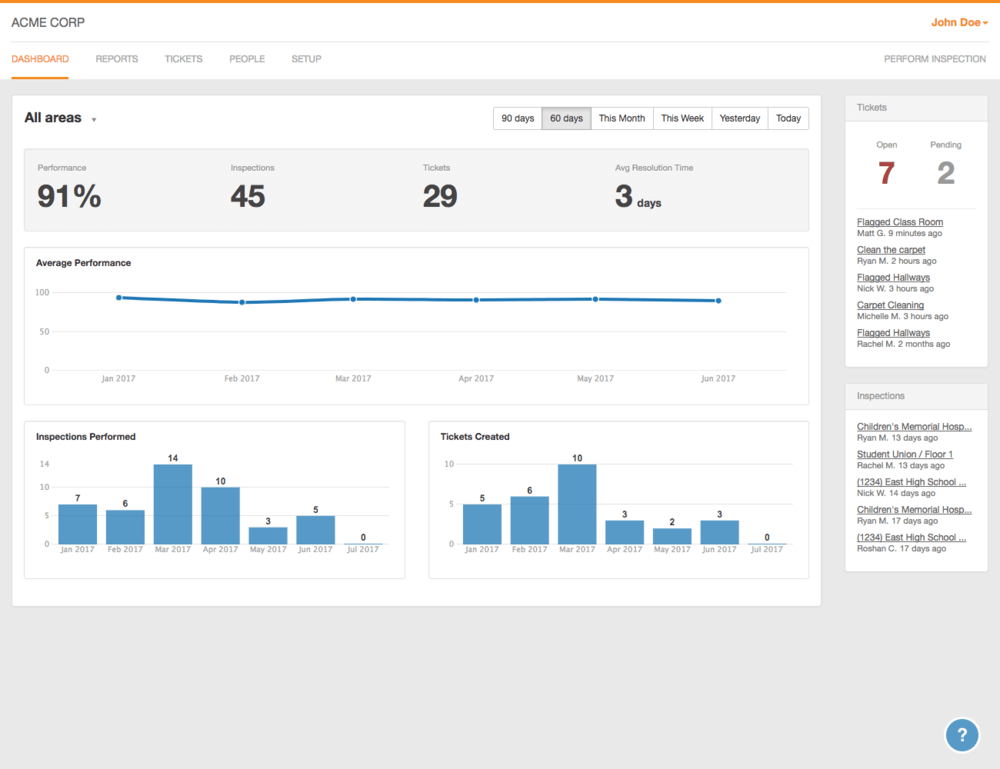 Set them up with their own account. When you introduce OrangeQC, it's another chance to show your client that you're serious about quality control and using the best technology out there to track it. OrangeQC lets you customize access for each account. That means you can set your clients up with an account that lets them see everything you want them to see—and nothing you don't. Share average scores, allow them to submit and update tickets, and more, without worrying that a customer will accidentally change something they shouldn't.
Use OrangeQC to manage work orders. When you set your clients up with their own OrangeQC accounts, they'll be able to submit tickets and work orders through the site or app. This simplifies communication around simple requests and allows them to check on the status of their request at any time.
Follow up whenever there's an issue. Let's say a client submits a ticket because a restroom wasn't cleaned correctly. When you follow up and resolve the ticket, they'll be notified that your team made things right. But don't stop there. Follow up by sending them a copy of your next inspection and let them know you're proactively keeping an eye out to make sure the issue doesn't happen again.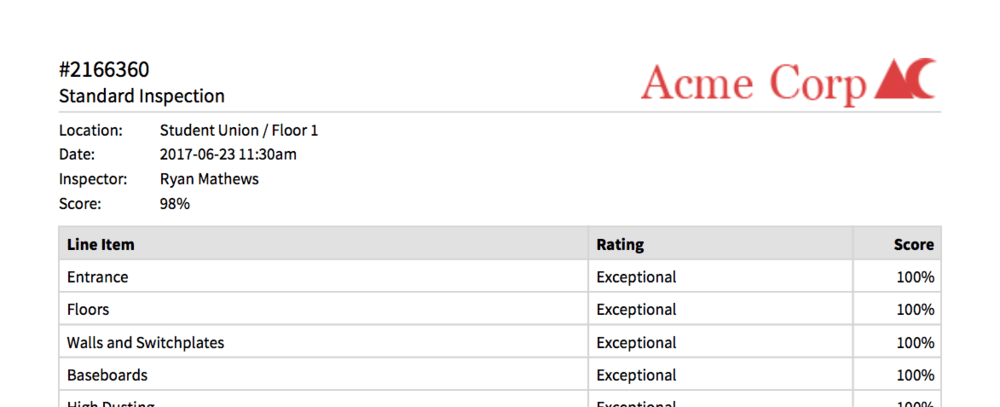 To help land new clients:
Demonstrate your knowledge. Bring the data you have from OrangeQC into your meetings with potential clients. When you know figures like your average response time for issues off the top of your head, they'll know you're serious about quality control.
Show off the technology. Pull up a real-time graph of your overall performance. Swipe through a sample inspection form for a building similar to theirs. Basically, impress your potential client with the simple, powerful technology you've got on your side. As Joe Stamler of Associated Building Maintenance told us: "I include OrangeQC in every proposal and presentation…people just eat it up. People love the real-time graphs. People love the pictures. People love the iPad."
Talk about the ticketing system. Demonstrate how your clients can fire off a work order in seconds from the mobile app—and check on the progress whenever they want. Potential clients have likely worked with a less-than-ideal system for work orders and complaints before. They'll be relieved to know you have a simple solution that doesn't involve calling your house at 10 p.m. because a problem never got resolved.
We hope these ideas help you improve your client relationships and win the bids you want. If you have any questions about how to use the OrangeQC features we've talked about, don't hesitate to contact us at support@orangeqc.com. (And if you're not an OrangeQC customer yet, we'd love to help you out with beautifully simple inspection software. Click here to start your free 30-day trial.)