Great app development always comes back to the importance of thoughtful, useful, and intuitive updates. From marquee new features to regular maintenance, that behind-the-scenes work is crucial to keeping our janitorial inspection tools running smoothly.
Over the past few months, we've reflected on how to choose a good software vendor partner, as well as our own philosophy on software and app development. The new year gives us a chance to consider how we deliver on that vision.
First, we're taking a moment to celebrate all of the big OrangeQC improvements from 2021. Then, we're looking ahead to what teams can expect to see from us in 2022 as we stay committed to keeping OrangeQC running smoothly and working hard for the teams who use our tools.
How we grew in 2021
Over the past year, we made some huge improvements to our tools! These included:
App upgrades for a fresh inspection form layout, a faster inspector experience, and the ability to easily attach multiple photos at once
An entirely new version of the OrangeQC Android app, built from scratch to work smoothly on the latest phones
Updates to the iOS app that take advantage of iOS 15 improvements, including Apple Pencil compatibility
User avatars and profiles
In-app photo stamps
Form-specific inspection emails
New draft shortcut on the mobile apps to quickly access Inspection drafts direction from the Inspection tab.
If you use OrangeQC, we hope these features have made the app even smoother to use. We've heard some great feedback from teams so far!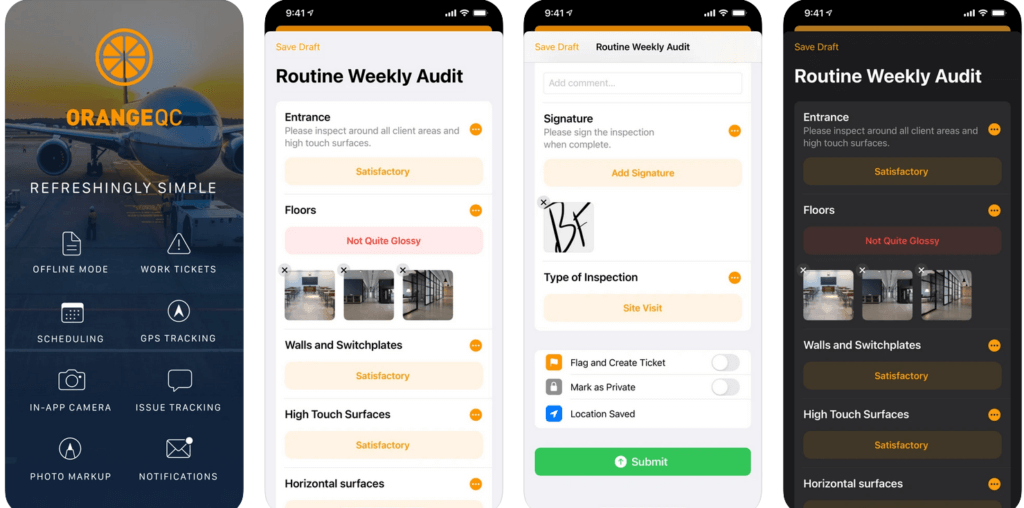 We also released our Playbook for University and Educational Facilities Teams. This guide helps our teams in the educational industry get up and running quickly, with an OrangeQC setup that makes sense for their needs.
Additionally, we began a limited, private beta test for our Enterprise teams: a feature that allows for scheduled automatic exports to tools such as Power BI. (More on that below.)
What we're planning for 2022
Last year we put a lot of attention into fine-tuning our inspections process to be smooth, efficient, and effective. This year, we'll invest our effort into some much-anticipated updates to tickets! If you you're avid ticket user or work triaging inbound ticket emails, we think you'll you'll enjoy the updates.
We also look forward to integrating more industry best practices directly into the our tools. First up? We're creating pre-made APPA inspection forms as options within the app so higher ed teams can hit the ground running. Of course, we've supported APPA-based inspection forms and ratings for a long time, but these new additions will help teams implement best practices within their organizations even more easily.
You can also expect to see more playbooks coming out this year! These quick-start guides for specific industries and company types recommend specific ways to set up the app and use it effectively. (If you're using OrangeQC in a unique way you think other teams would benefit from, we'd love to hear from you!)
Additionally, as we mentioned above, we've been working on support for automatic, scheduled data exports. This will make it simple to use data gathered in OrangeQC with other business intelligence tools, such as PowerBI.
Thanks to all of our incredible, hard-working teams for allowing us to partner with you last year! We're raising a toast to another year working hard to create refreshingly simple quality control tools that your teams can rely on.
---
Not yet using OrangeQC to simplify inspections and quality control? We'd love to schedule a one-on-one demo to show you everything the app can do, or get you started with a free 30-day trial (no credit card or banking info required).