Before Ann Rieben took over as Custodial Services Supervisor for the School District of Indian River County in Florida, each school managed its own custodians. Results were mixed.
Rieben created a more centralized program, using her experience with environmental services in healthcare to help improve conditions at each of the schools. The program involves regular inspections at each school, tracking each custodian's cleaning quality, communicating results, getting to the root of performance issues, and recognizing great work.
"Cleanliness in the schools has gone up tremendously in the six years since I've had this program going," she says.
Rieben spoke with us recently to share more about the program, as well as other strategies her team employs to help deliver "a school that children want to be at" for all of the district's students.
Inspecting regularly
The School District of Indian River Country has 23 school locations, with about 17,000 students between them. Rieben goes to every school, every week to do inspections with our OrangeQC janitorial inspection app. She's on the road as early as 5:00 a.m. in order to catch the schools after the nightly cleaning, but before students and staff arrive in the morning.
Ann has also brought in strategies from her background in healthcare to the school district. For example, she employs an ATP meter to test surfaces; this type of testing is common in healthcare settings, as it detects the level of biological residue left on a surface. While she may not be looking for the same level of cleanliness she would have expected in an operating room, the information is still valuable for helping the team disinfect effectively.
Recognizing great performance
Rieben created the White Glove Award to help recognize high-performing teams. "The school with the highest inspection score each quarter receives the award," she says. "They get very competitive."
The quarterly competition culminates at the end of the school year, when the top three schools and the top three individual custodians receive White Glove Award trophies and are presented to the school board.
"This little eight- or nine-inch trophy, they fight hard to get it," Rieben says.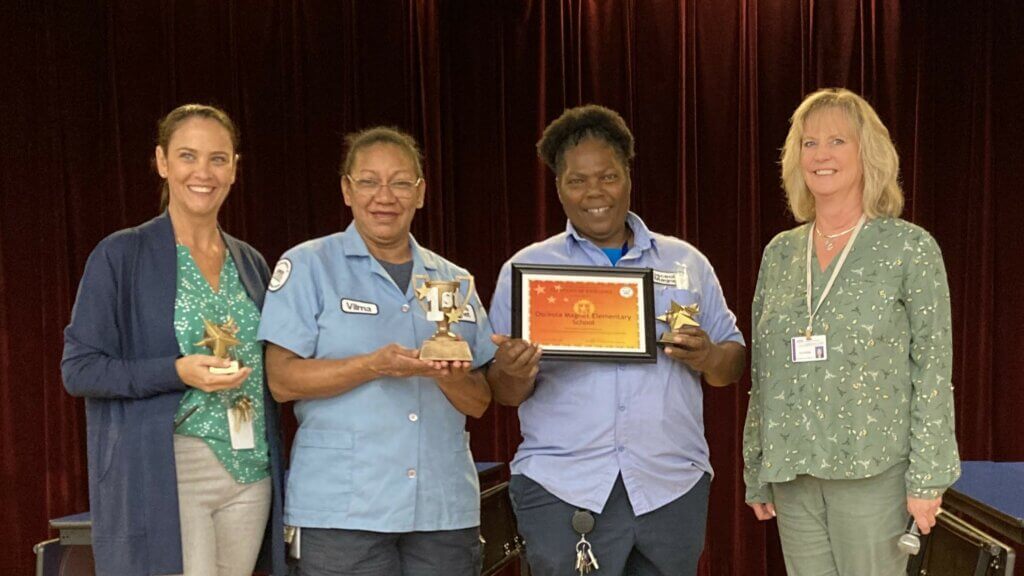 And while the competition adds some fun to the job, the real impact is having their custodial work valued and recognized. That's not just by Rieben herself, but also by their school administration and within the district. Custodians are recognized at board meetings within the staff newsletter, for example.
"It's a hard job, and a thankless job much of the time. So the more we can thank the custodians, it's appreciated."
Communicating results
Rieben sends weekly reports to each school's principal and assistant principal (who is usually the one overseeing the school's custodians). The individual custodians also get reports from the zones they are personally responsible for each week.
One time, a custodian stopped Rieben in the hallway to ask why her inspection score had fallen . . . from a 98.7% the week before to a 98.4% that week. That's how deeply the staff is invested in keeping their scores high. The custodians work together as a team to help maintain good ratings as a school, as well as encouraging lower-scoring custodians to step up their game.
In addition to the weekly report, Rieben also sends a monthly report to all of the schools' principals with overall performance, in case they haven't opened the weekly emails. However, she says that principals do generally keep on top of the reports. "During and post-Covid, cleaning has definitely come to a higher level of attention from the group."
Rieben coaches the assistant principals, who largely manage the custodians within their own schools, to address general patterns rather than one-off issues. For example, if a custodian skips a cleaning step one day, that's not worth bringing up. However, a pattern of forgetting or neglecting a certain line item should be addressed.
On top of all of those weekly and monthly communications, Rieben sends quarterly reports to the superintendent and deputy superintendent. This lead to conversations about how to address any issues she is seeing with specific schools.
Addressing issues head-on
One issue discussed with the superintendent? The five lowest-performing schools. If their scores don't improve, Rieben meets with that group weekly for three months in order to intervene and help turn things around. So far, this targeted attention has always succeeded in bringing the schools' scores up to acceptable levels.
Rieben also makes sure to inspect each custodian's specific zones to make sure she is tracking their individual cleaning quality. If a school has two high-performing custodians, and a third is bringing them down, it can be frustrating. She makes a point to highlight "the people who are doing an awesome job."
Rieben noted that there were a few custodians who did not like the heightened level of accountability, and who ultimately chose to leave the district. However, employee retention has been good overall, and those who remain have largely embraced the accountability. In fact, Rieben said that anecdotally, she hears from colleagues at other local districts who are struggling to keep enough custodial staff employed. The School District of Indian River Country has not had trouble to the same extent.
"We're fortunate in our field," she says.
Striving to be a good employer
Of course, Rieben is competitive, too: she wants the district to be "better than everyone else" in how it treats its employees. Sometimes, the nature of being in a public school limits what's possible in terms of rewarding performance. But there are still ways to let custodians know their work is valuable, seen, and appreciated.
"I make sure I know every custodian, know their names, know something about them, to show that they matter to us," Rieben says.
---
Thank you so much to Ann Rieben for sharing your experience and expertise with our readers!